For an organisation to operate effectively and professionally, some rules and regulations are created in a proper documented form that are required to be followed at any cost. These written rules and regulations are known as Standard Operating Procedures, and are most commonly known as SOPs. This document of Standard Operating Procedures contain step wise instructions that describe in detail the procedures of performing daily tasks. Almost every organisation has its own SOPs template depending upon its type, nature and scale of its business. You can download 30 free standard operating procedures templates at this page. 
With the proper SOPs in place, the management of the entity tries to attain a certain level of consistency and maintenance in their routine operations. Another reason for management to rely on SOPs is so that they can attain a certain quality of products or services that they are offering. Simply, we can say that the key purpose of SOPs templates is to enable the employees to perform the routine operations precisely and always in the same manner in which they are intended to be performed. Here, we bring you some quality Standard Operating Procedures templates or  SOPs templates that you can easily download and further customize them too.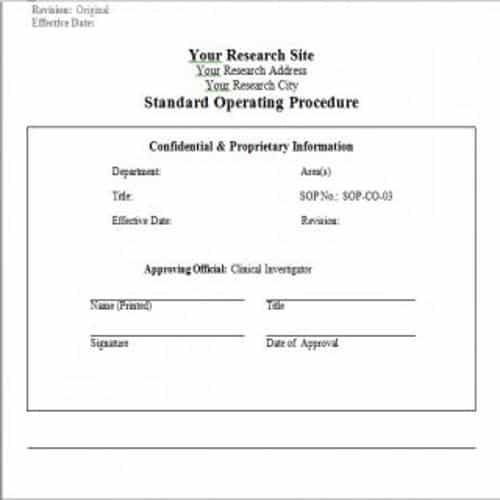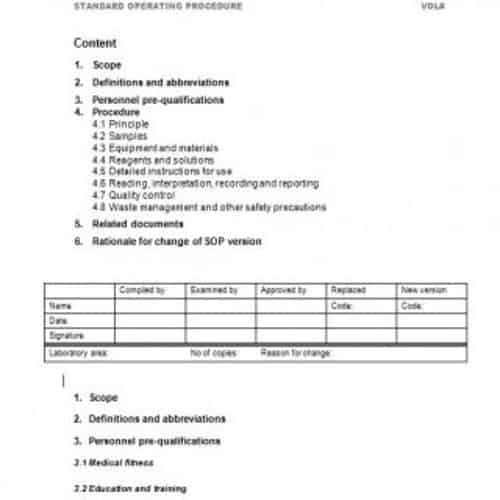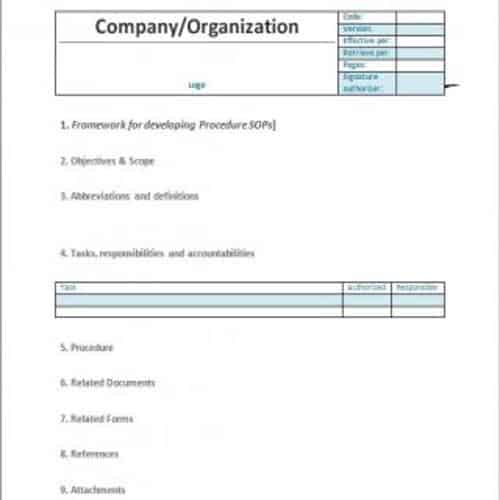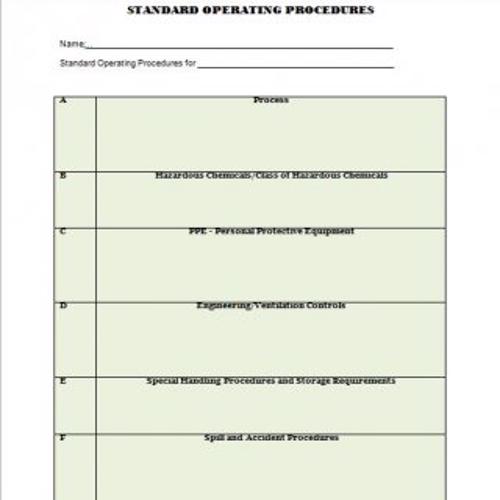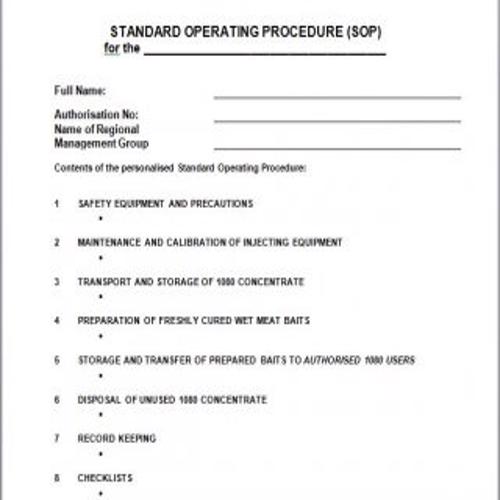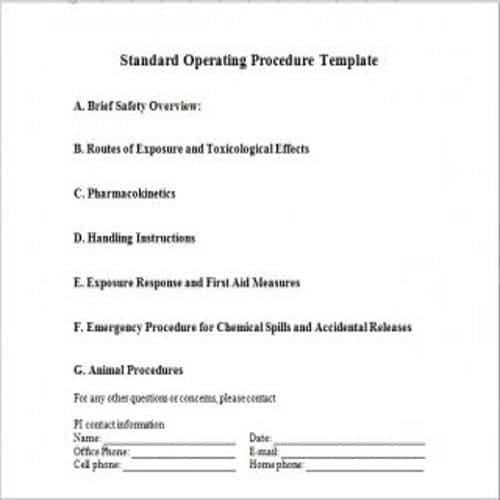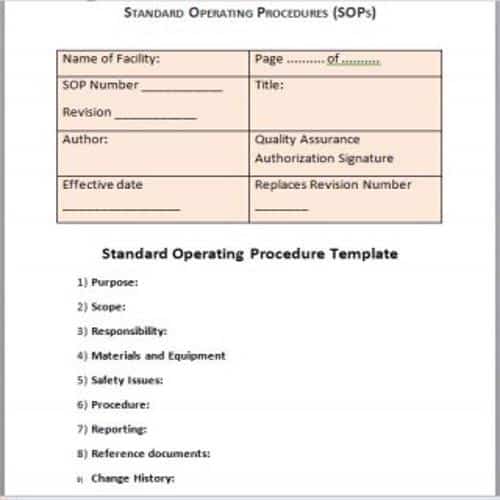 Explanatory SOPs Template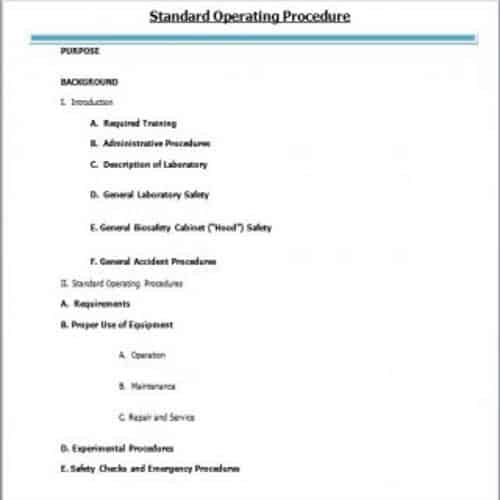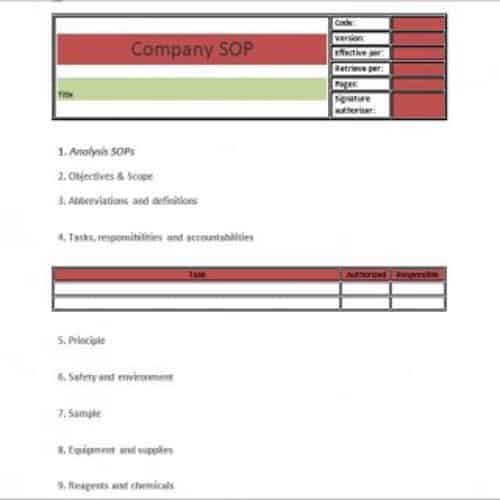 Organizational SOPs Template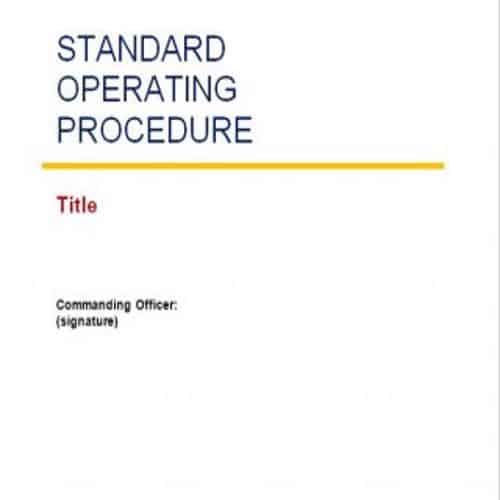 A proper SOP is usually more detailed and explanatory than a simple process. It takes the components of a higher level process and adds more explanations, particular assignments and workflows to it in accordance with the standards of the entity or the relevant industry. In an SOP template, it is also explained that what is required to be done for a particular outcome. Moreover, some additional information like who, when and where etc. can also be added to an SOP. Following are some of the reasons why the SOPs are require:
For maximum productivity.
Ensuring safety measures.
For prevention of manufacturing faults and failures.
For training.
To make sure that the relevant standards are complied with.
To make sure that any process or procedure has no adverse impact on the environment.
To strictly follow the schedule.
Formal Standard Operating Procedures (SOPs) Templates
Benefits of Standard Operating Procedures (SOPs)
Following are some of the key benefits of properly written and documented standard operating procedures:
1. Employee Training:
The written SOPs that are related to training of employees, help to make sure that all of the newly hired employees also get the same training, in the same manner and in same time, just like the employees already working. A particular standard is set by such SOPs, for the orientation and training. It also helps the new employees of the entity to settle themselves easily and quickly. 
2. Reduction in Errors:
The SOPs are written in order to make sure that by following them, the errors and omissions can be reduced and minimized up to a great extent.
3. Increased Productivity:
As the SOPs provide clear details of what is expected from the employees, it helps in smooth flow of daily operations and activities of the entity. The smooth flow of operations and the possible maximum reduction in errors will ultimately increase the production levels of the entity.
4. Consistency:
There is a lot of effort and hard work involved in establishing a particular brand. Of course, it's not a day's job, and a lot of time and struggle is there behind the success of every entity or organisation. So, this hard work and struggle should be protected by a properly written set of SOPs, in order to achieve consistency in your business and all of its operations and activities.
5. Legal Requirements:
Depending upon the nature of your business or generally, the type of your industry, SOPs are also important to protect your employees or customers. It makes sure that if something goes wrong, you will not be held legally responsible and your business will have no or minimal impact of any legal proceedings.
6. Chain of Command:
The SOPs will specify and indicate a clear chain of command within the entity. It can also contain the hierarchical structure of the management of the entity. It properly explains that from where the command flows and where it is executed. It is also important in case where a product is manufactured, reviewed and approved in multiple stages.
7. Transfer of Work:
The written SOPs clearly explain how the work will be done, particularly if an employee is on a long leave. This is to make sure that the work or task is properly transferred and the smooth flow of operations is still maintained.