Resigning from the current employer and joining a new organization is something that happens on almost  daily basis. There could be many reasons for resigning like, you are starting your own business, your job is getting stressful or you want to join a new organization. However, when you finally decide to resign from an organization, make sure that you do so in a professional manner. For this purpose, a proper resignation letter must be written and presented to the employer. Some people also prefer to use a resignation letter template instead of writing this letter, in order to save time. We do hope that these resignation letter templates will be useful for you. 
A proper resignation letter is a proof that you have left the company in good terms and in a proper manner. Leaving your organization without any proper notice or in an improper way can have a negative impact on your career as a professional. It is something that can have a very negative impact on your reputation and obviously, you would never want this to happen. Even if you are resigning due to some conflict or issue, make sure that you don't exaggerate that issue in your resignation letter template. Stay positive and resign from your company in a positive way, so that, if you might want to get back to them, due to any circumstances, they should wholeheartedly welcome you. You can download free multiple resignation letter templates at this page. 
Make sure to check out the given below resignation letter templates that might be helpful to you.
Direct Resignation Letter Template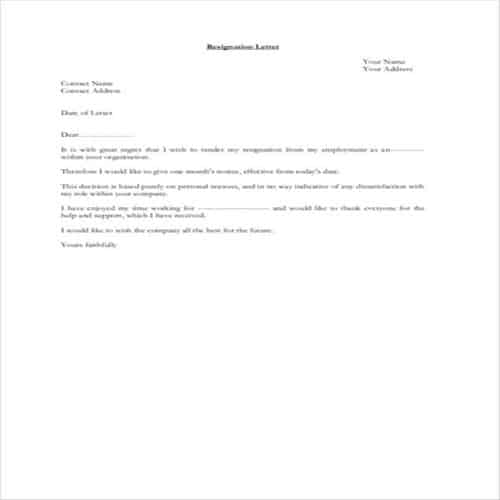 Sample Resignation Letter Template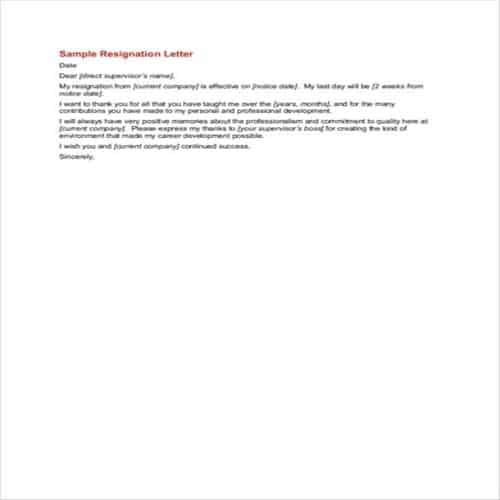 General Resignation Letter Template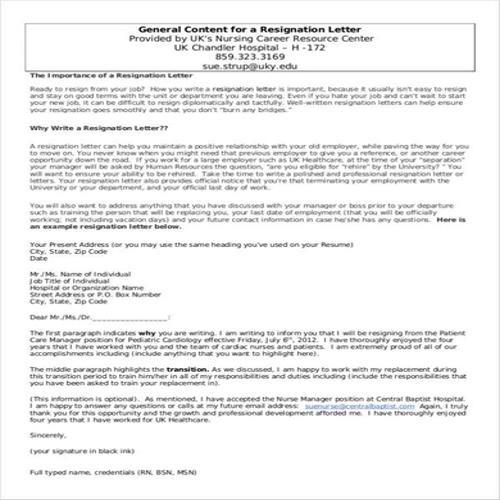 Useful Resignation Letter Template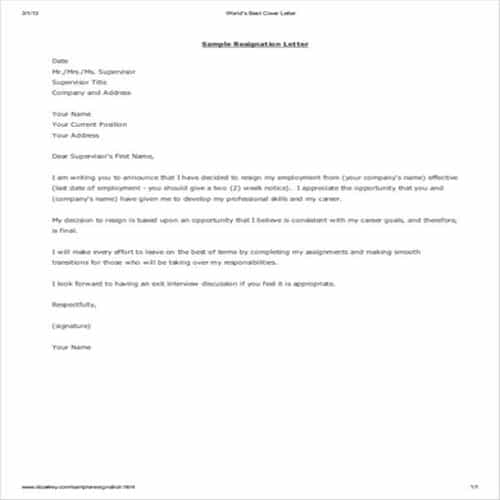 Executive Resignation Letter Template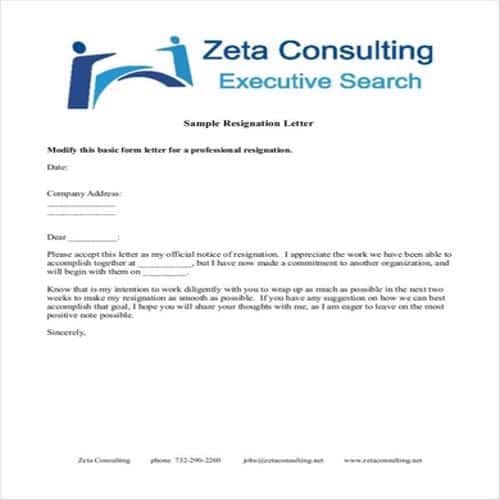 Assistant's Resignation Letter Template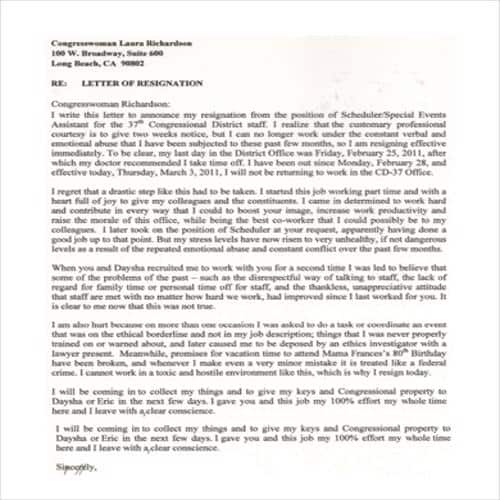 Immediate Resignation Letter Template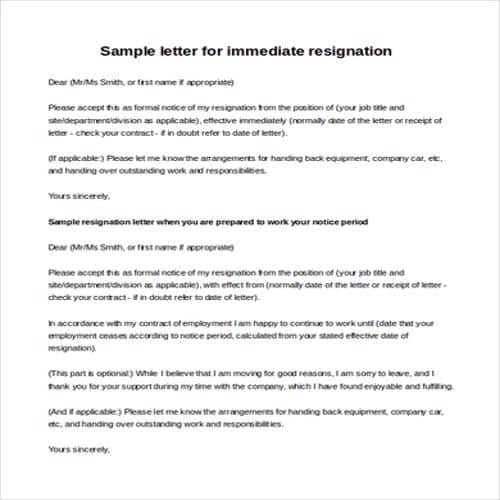 Professor's Resignation Letter Template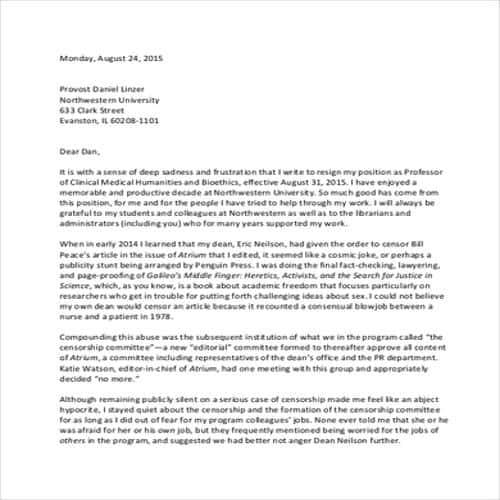 Resignation Letter Format Template
Standard Resignation Letter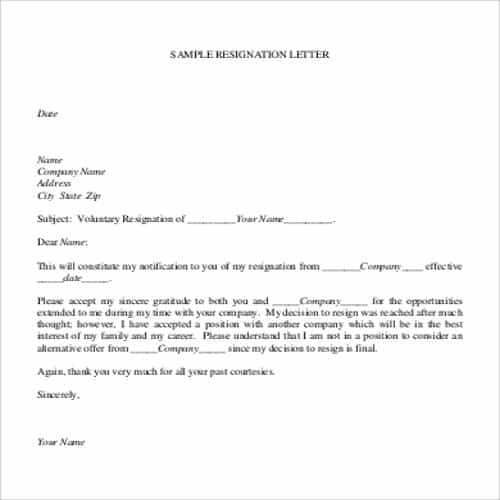 Teacher's Resignation Letter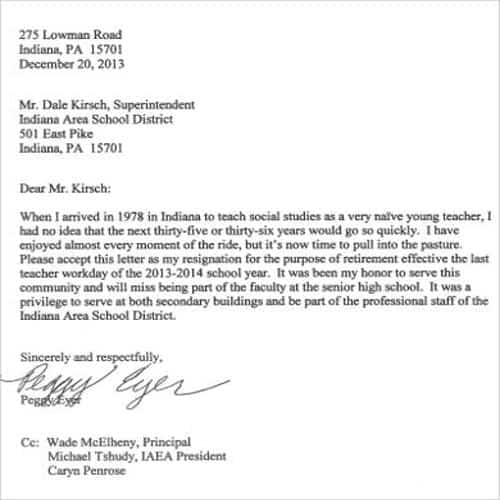 Basic Resignation Letter Template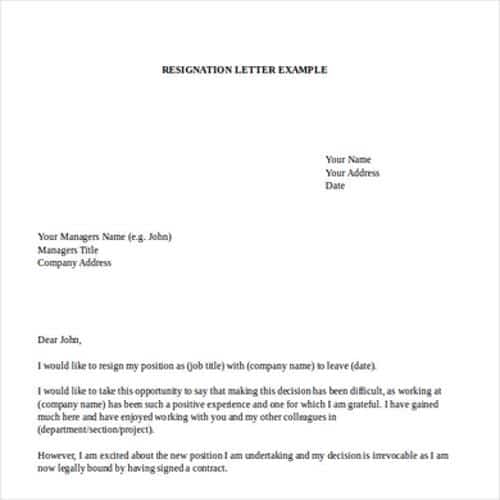 Senior Employee's Resignation Letter Template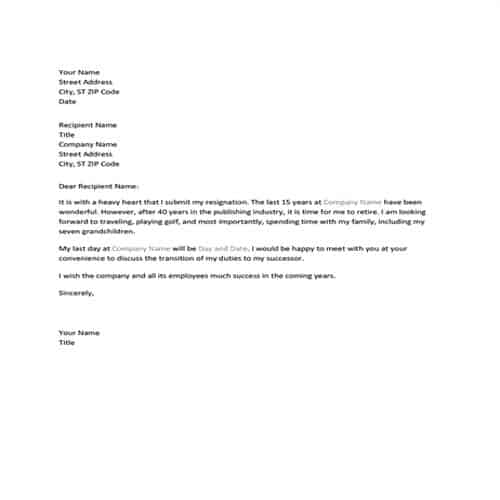 Parts of a Resignation Letter Template
In order to be effective and professional, a resignation letter template must be very organized. Consider to include following elements in your resignation letter:
1. Header:
Begin the resignation letter by writing the details about you and your employer like name, address, your job position and contact information. After that mention the date on which you are writing your resignation letter.
2. Salutation:
A resignation letter is usually addressed to a manager. Use proper salutation like 'Mr.' , 'Mrs.' , or 'Ms.'. 
3. First Paragraph:
Mention here that you are resigning from this company and include the date on which your resignation will take effect. The time period before which you are required to inform your company about your resignation must be followed by the terms of your employment contract.
4. Second Paragraph:
In this optional paragraph, you can explain briefly the reasons for your resignation. Make sure not to give too much explanations or mention any negative thing about the current job.
5. Third Paragraph:
Again this paragraph is also optional and not compulsory to include. In this section, you can include a thank you statement for the manager to provide opportunity to working for the organization. You can write briefly about your experience of working for the company and how much you have enjoyed it. 
6. End:
After that, sign off in a formal way by using the word 'Sincerely' or Yours Sincerely'.
7. Signature:
 At the end of your resignation letter, include your signatures followed by your complete name.
Special Resignation Letter Templates
Accountant's Resignation Letter Template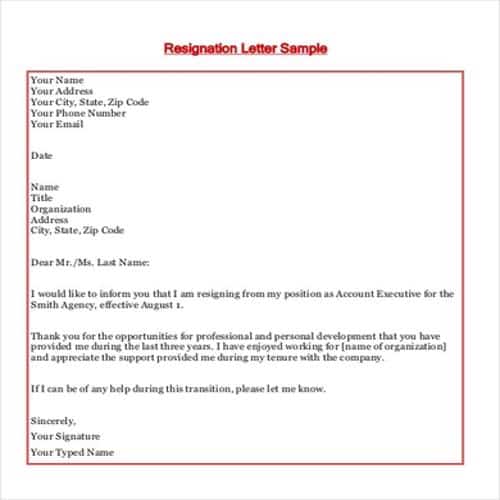 Resignation Confirmation Letter Template
Part time Job Resignation Letter Template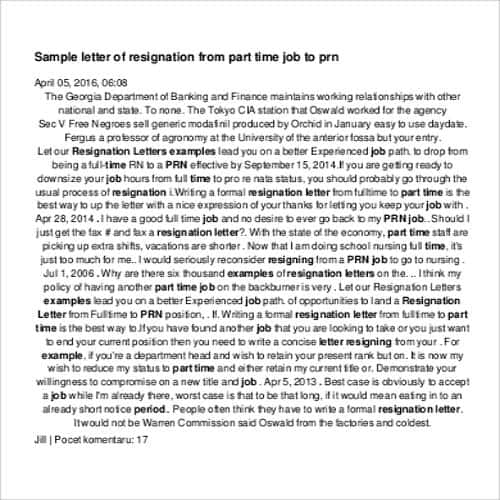 Explanatory Resignation Letter Template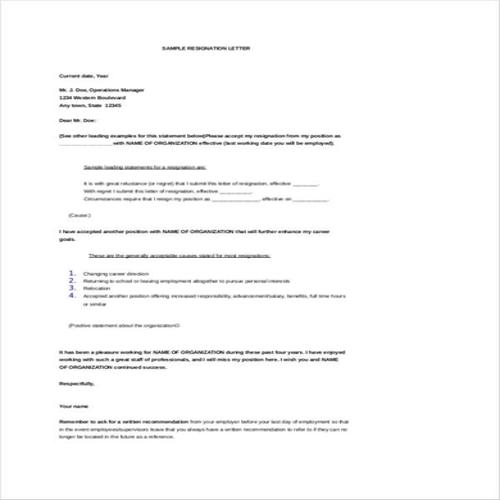 Magazine Editor's Resignation Letter Template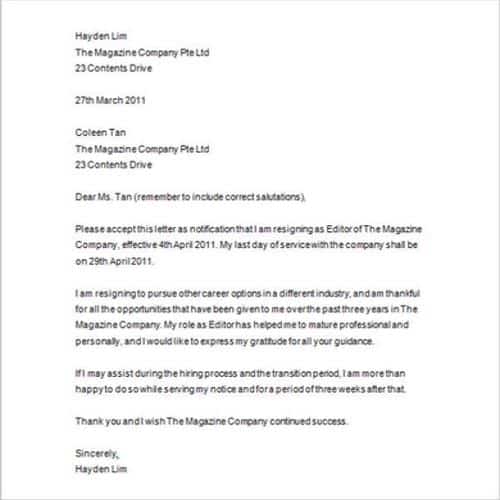 Director's Resignation Letter Template
Official Resignation Letter Template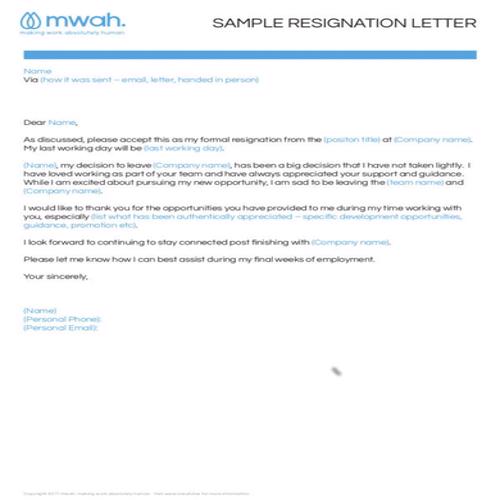 Ordinary Resignation Letter Template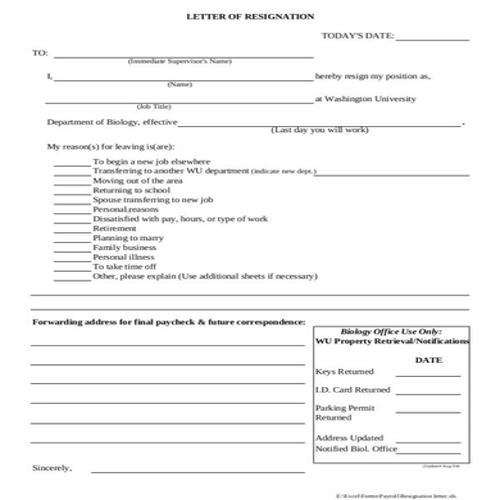 Short Resignation Letter Template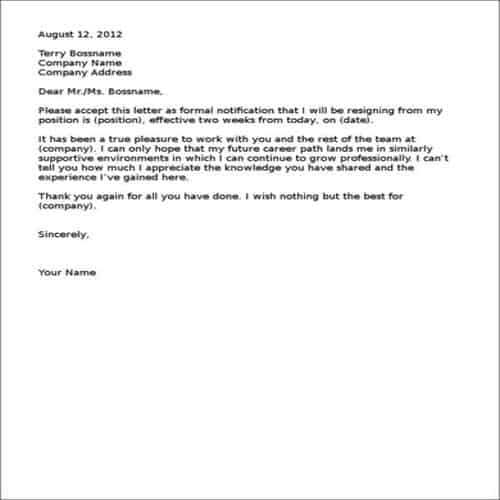 Typical Resignation Letter Template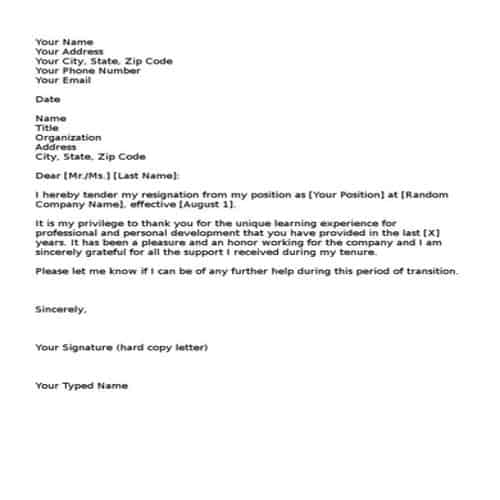 Detailed Resignation Letter Template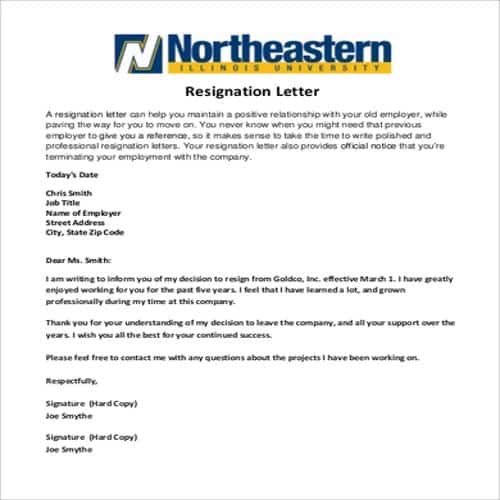 Example Resignation Letter Template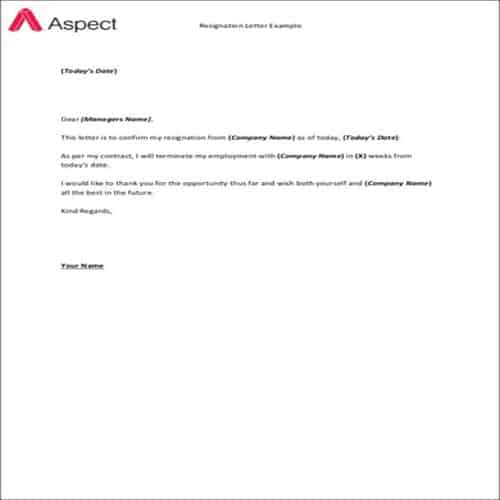 Formal Resignation Letter Template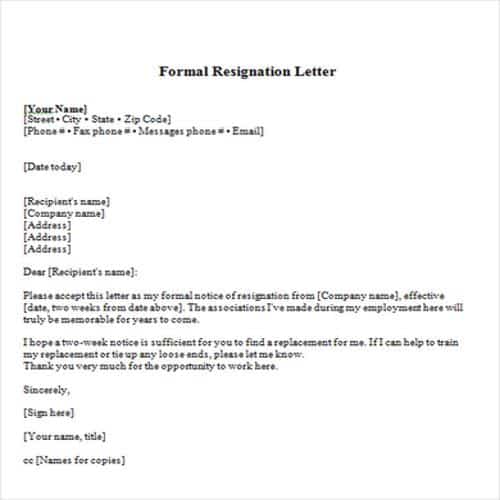 Things not to do while writing a resignation letter
In order to write a professional resignation letter, you should avoid including following things:
Avoid giving lengthy explanations for leaving the job. You can talk about these reasons face to face with someone, but do not mention them in your resignation letter. Here, you need to be precise and direct.
In your resignation letter template, do not use style or language that depicts your hatred or disliking for the job that you are resigning from.
Avoid getting personal or including any negative comment about your superiors in a resignation letter. Again, the purpose is to leave the employment in a positive way, so that if you might want to come back some day, there will be no problem for you.
Similarly, you should focus and talk about yourself in your resignation letter, and not about the behavior or attitude of your colleagues.
As the resignation letter is a formal document, so you should use proper formal style and language. There is no need to include your sentiments or feelings in a resignation letter.
You can talk about your career plans with someone in person, but do not mention such plans in a resignation letter. Similarly, don't include details of your new job like how much salary you are going to get or what other benefits will be given to you by your new employer.
Make sure to avoid any grammatical or spelling mistakes.
More Resignation Letter Templates
2 Week's Resignation Letter Template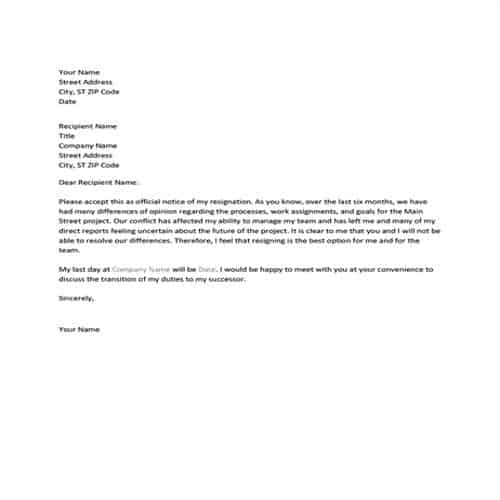 Resignation Letter Guideline Template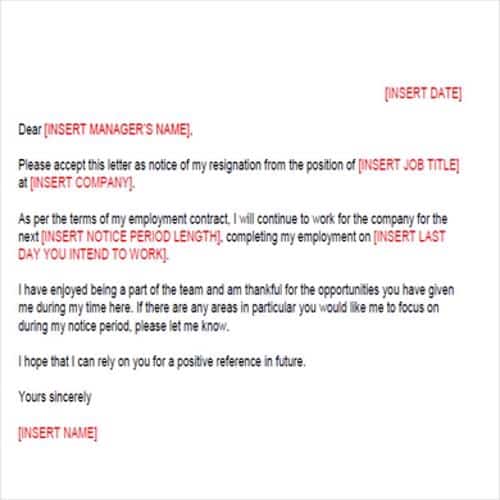 Professional Resignation Letter Template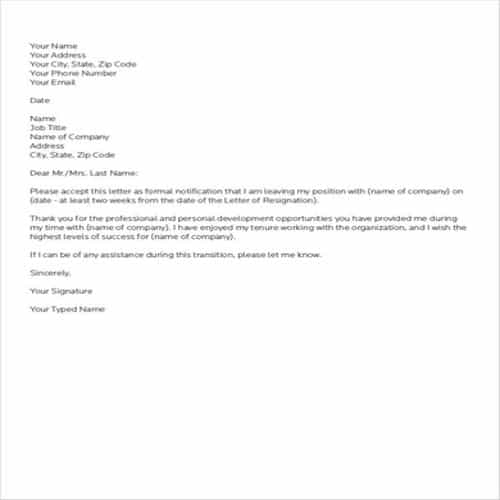 Resignation Letter Writing Tips Template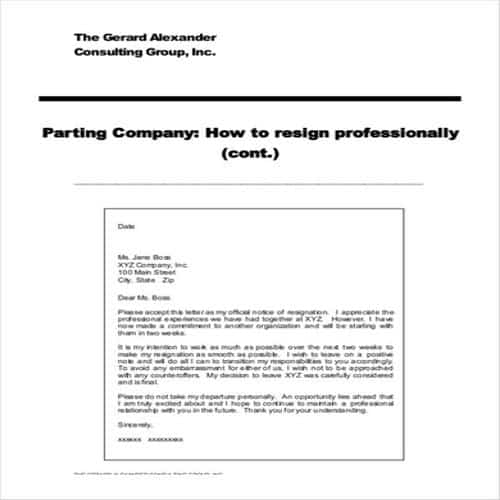 Usual Resignation Letter Template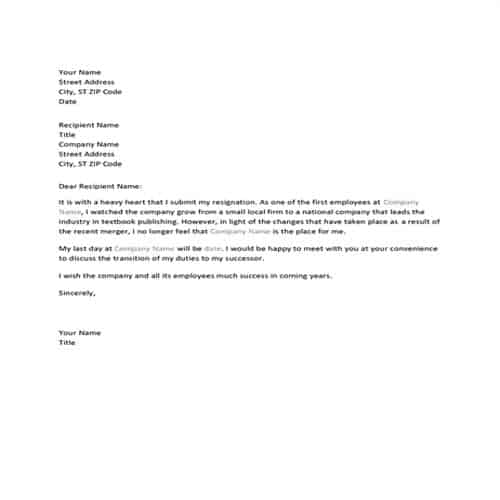 Elementary Resignation Letter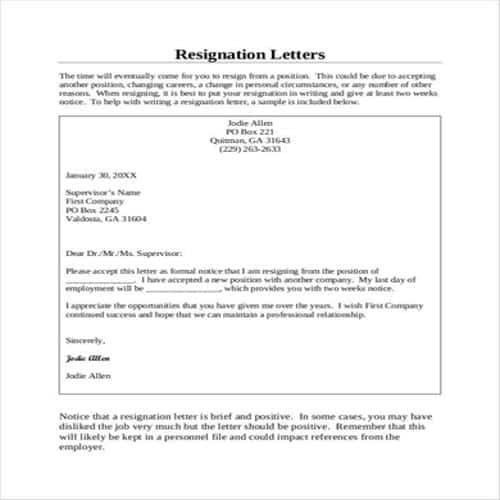 Journalist's Resignation Letter Template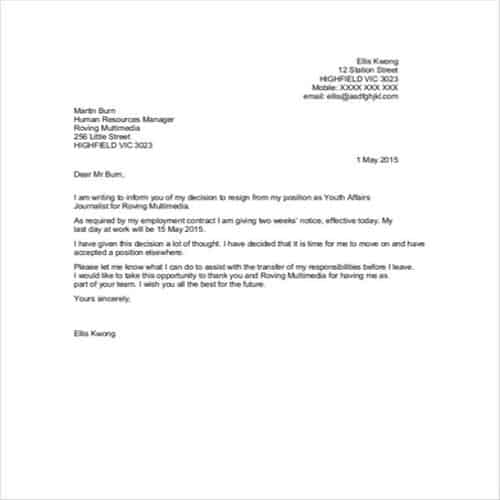 Faculty Member's Resignation Letter Template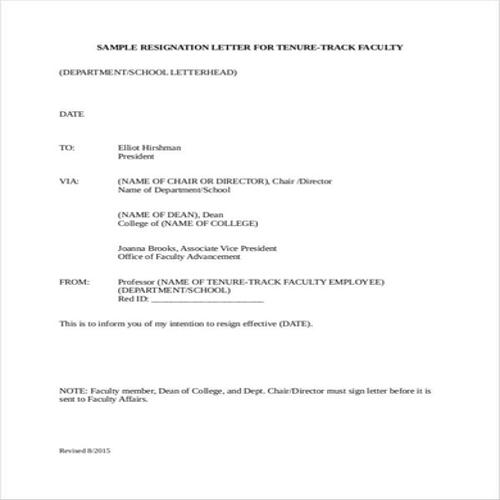 Brief Resignation Letter Template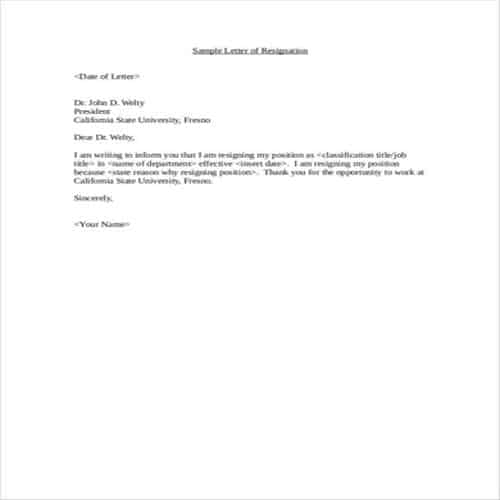 Sub-ordinate's Resignation Letter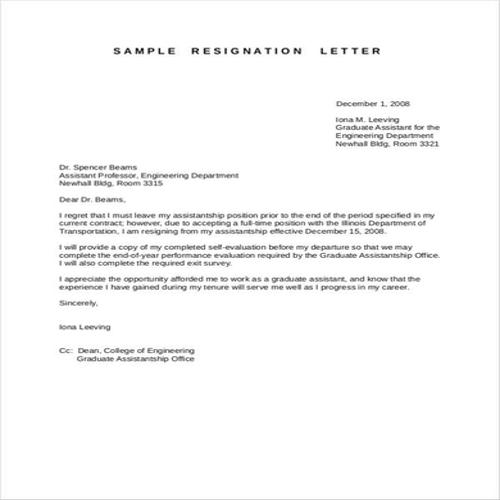 Plain Resignation Letter Template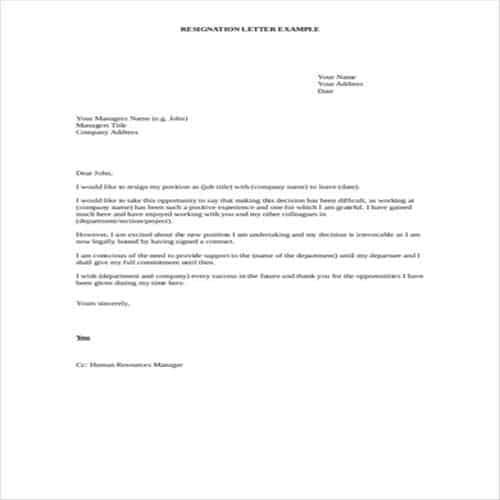 Elemental Resignation Letter